The USS Oregon Detachment recently hosted Nancy Menagh from the Woody Williams Foundation to learn more about Gold Star Families Memorial Monument.
Initially the Foundation's goal was to establish a Gold Star Families Memorial Monument in Woody's home state of West Virginia. Once that monument was complete, a new mission became clear to Woody and those at the Woody Williams Foundation to establish these monuments in as many communities as possible in all 50 states and U.S. territories. Today, Oregon is the only state without a memorial.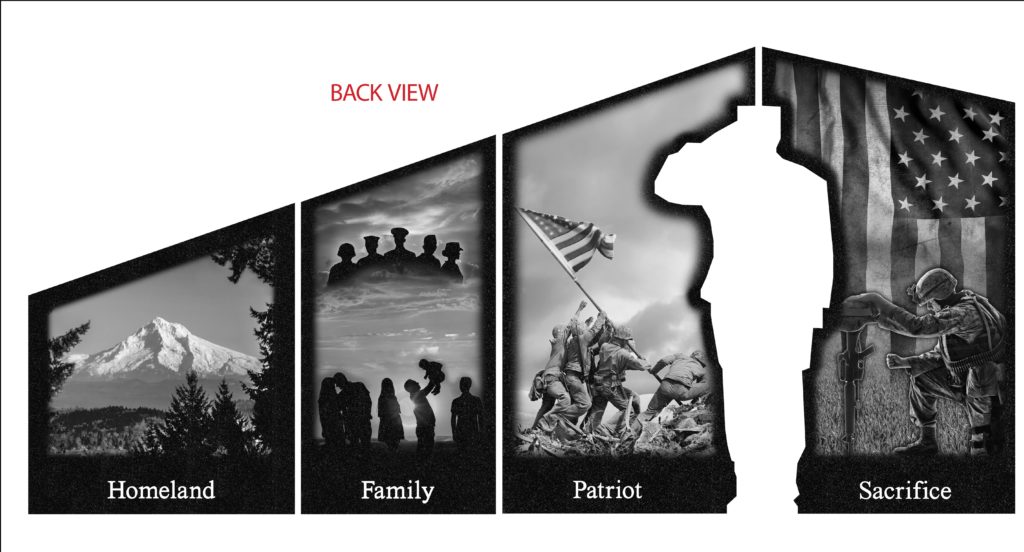 Gold Star Families Memorial Monuments are a two-sided tribute made of black granite. One side bears the words: Gold Star Families Memorial Monument, a tribute to Gold Star Families and Relatives who sacrificed a Loved One for our Freedom.

The other side tells a story through the four granite panels: Homeland, Family, Patriot, and Sacrifice. At the center of this tribute, is a silhouette of a saluting service member which represents the Legacy of the Loved Ones who have paid the ultimate sacrifice for our Freedom. Together, these features tell each community's unique story based upon the Pillars of the Foundation.
Hershel Woody Williams — the last living WWII Medal of Honor recipient — passed away in 2022 at age 99.  Woody received his MOH for actions at Iwo Jima and devoted his life to building Gold Star Families Memorial across the United States. To date, Woody's foundation is responsible for establishing 130 Gold Star Families Memorial Monuments across the United States with more than 64 additional monuments underway in 50 states and 1 U.S. Territory. The Foundation continues to grow its reach by being involved in multiple initiatives across the country.
Nancy along with American Gold Star Mothers, Gold Star Wives of America, and Blue Star Mothers have joined together to build Oregon's first Woody Williams Foundation Gold Star Families Memorial. The Memorial will be placed at Willamette National Cemetary once the group raises the final $10,000; they have raised $60,000 to date.  You can learn more about or donate money to the Foundation at Woody Williams Foundation.